Easy to take baby food with you on the road, how do you do that?

Are you going away for a day or on holiday with your baby.Then you will have to feed your baby more often on the way.How do you take baby food with you and how does it stay in your baby diaper bag? Or do you have to bring a separate cool box?
When you go on holiday or a day trip with your little prince or princess, you soon have a lot of extra luggage.Diapers, baby wipes, a high chair, pram and clothes.Besides thinking about what you need for your baby during the trip, there is also the journey.
If you are in the car for several hours or more, you will also have to feed your hungry baby on the way.At the gas station you will find yourself a sandwich and a cup of coffee, but most likely nothing for your baby.
Reconstituted formula does not keep well for long.How do you keep the bags cool and how do you get warm? How do you feed your baby on the go?
Feeding baby formula on the go
You have prepared formula for baby feeding on the go.Please note, because ready-made bottle food has a limited shelf life.This will keep for one hour outside the refrigerator.But if you store it below 4 degrees, it can be kept for a maximum of 8 hours.
You can keep the baby's formula cool in a cool box.I must say that this is a huge drag for when you go away for the day.Not only the cool box has to be taken along, but also the diaper bag, clothes, changing gear and more.
Handy baby diaper bag also for baby food

When I take baby food with me on the road, I always pack my diaper bag backpack.In any case, when I go out with the baby, I take it with me, because everything is in it.From wipes to changing mat and diapers.I can't live without my NanaBeebi diaper bag backpack anymore.

In the front compartment there is room for two bottles that remain warm or cold due to the insulation material.Ideal for taking baby food on the go.Thanks to the layout, the robust material and the beautiful diaper bag backpack, you will enjoy this compact and beautiful baby diaper bag for years to come.
What do you take along the way to feed the baby?
O To feed your baby on the way, you put a thermos of boiled water, a bottle of cold water, milk powder and of course the bottle in the NanaBeebi diaper bag.This is how you leave home prepared.It is best to prepare the bottle as soon as your baby wants to drink.
If you bring boiled water in a thermos flask, you can mix it in the bottle with the cold water until you have reached the right temperature.You can of course also take the right temperature of water with you in the thermos.The disadvantage of this is that the hot water in the thermos also cools down somewhat over time.
It is best to divide the milk powder in the right proportions at home.A special container to store the milk powder is ideal for this, for example a powder tower.A porridge bottle is also easy to prepare on the go in this way.
Another solution is ready-made formula.This is available in packages that you keep outside the fridge.And so only need to warm up.
Also put two baby spoons in your backpack diaper bag from NanaBeebi.There is a special compartment for this in the front compartment, where the bottles are also placed.So convenient, if I do say so myself.You have everything at hand with this baby diaper bag.The NanaBeebi diaper bag backpack also has an extra large bottle warmer holder, where you can place longer bottles.
Yogurt and fruit for the road
Yogurt and fruit for on the go is available in handy squeeze packs.You can squeeze the baby food into his or her mouth in small portions, which prevents a lot of mess. Houd bij voorbaat altijd een spuugdoekje bij de hand, mocht er toch wat geknoei zijn.
Voor wat oudere baby's is bijvoorbeeld ook een banaan een prima oplossing voor onderweg.Never feed your baby or toddler while you are driving.Your little one can choke and you don't want that.
When eating or drinking on the road, wet wipes and bibs are of course indispensable with a baby.
Put all this baby stuff and baby food in your handy NanaBeebi diaper bag backpack.And you are always prepared for what comes along the way.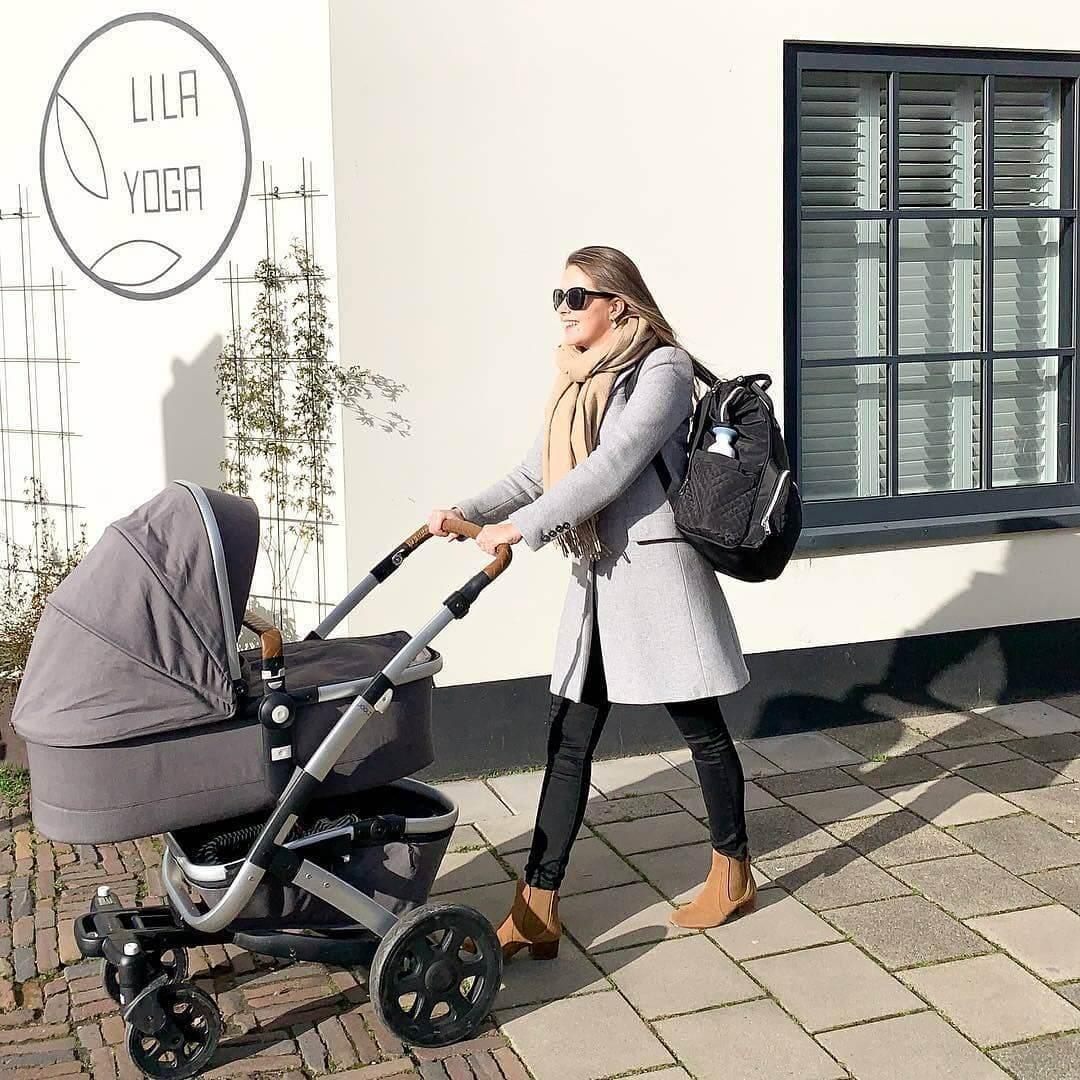 Prepared for the road
What should be in the diaper bag backpack for feeding your little one are a few burp cloths, a muslin cloth and a clean set of clothes.This way you prevent panic when your baby spits up on the way.
Always leave an extra set of care items in the NanaBeebi diaper bag.And make sure everything is replenished on time.This way you have everything within reach when you spontaneously go out with your little one.This saves you time and prevents stress.Have fun during your trip, trip or day out.

~Priscilla