As a new mother, traveling with a baby and breastfeeding can be quite challenging, especially in public areas.
It's a good idea to invest in a variety of accessories, such as a nursing cloth and diaper bag, to ensure that you can properly care for your little one.
While it's not always easy to breastfeed in public, using the right products can make it a lot easier.
Instead of buying expensive dresses and scarves for this, it is recommended to invest in a suitablediaper bagandfeeding clothto make sure you and your baby are comfortable during feeding.
Invest in the best diaper bag for travelling
There are many necessary baby products that you should carry with you when traveling with your baby.
Having a good diaper bag means that you can quickly reach the right products and ensure that your baby products are stored in an organized manner.
The traditional bag was initially designed to store diapers only, but today the bestdiaper bag allows you to carry all the items that are important to your needs baby.
In addition to diapers, you can also store other important things in a diaper backpack, such as:
Feeding bottles
Baby medicines
Baby clothes
Toys
Pacifiers, etc.
You can imagine that when you have to carry all these products while using a standard diaper bag, you have to lift a bag that is way too heavy and you are not well organized.
Choose the best diaper bag brand
The traditional diaper bag is very large and is made of an average quality that can leak.In addition, many of them are not designed to aid breastfeeding in public and often come in designs that may not be very attractive.Nowadays you also find many bags made of flannel and / or leather that are not practical and expensive.
Meanwhile, thediaper backpackhas changed into a style that can complement the needs of a new parent.Therefore, while buying a diaper bag, think about the diaper bag with a lot of capacity so that you can put all your baby's essentials in it.It is also a good idea to buy a diaper bag with several compartments, so that the baby products all have their own place and are not mixed up.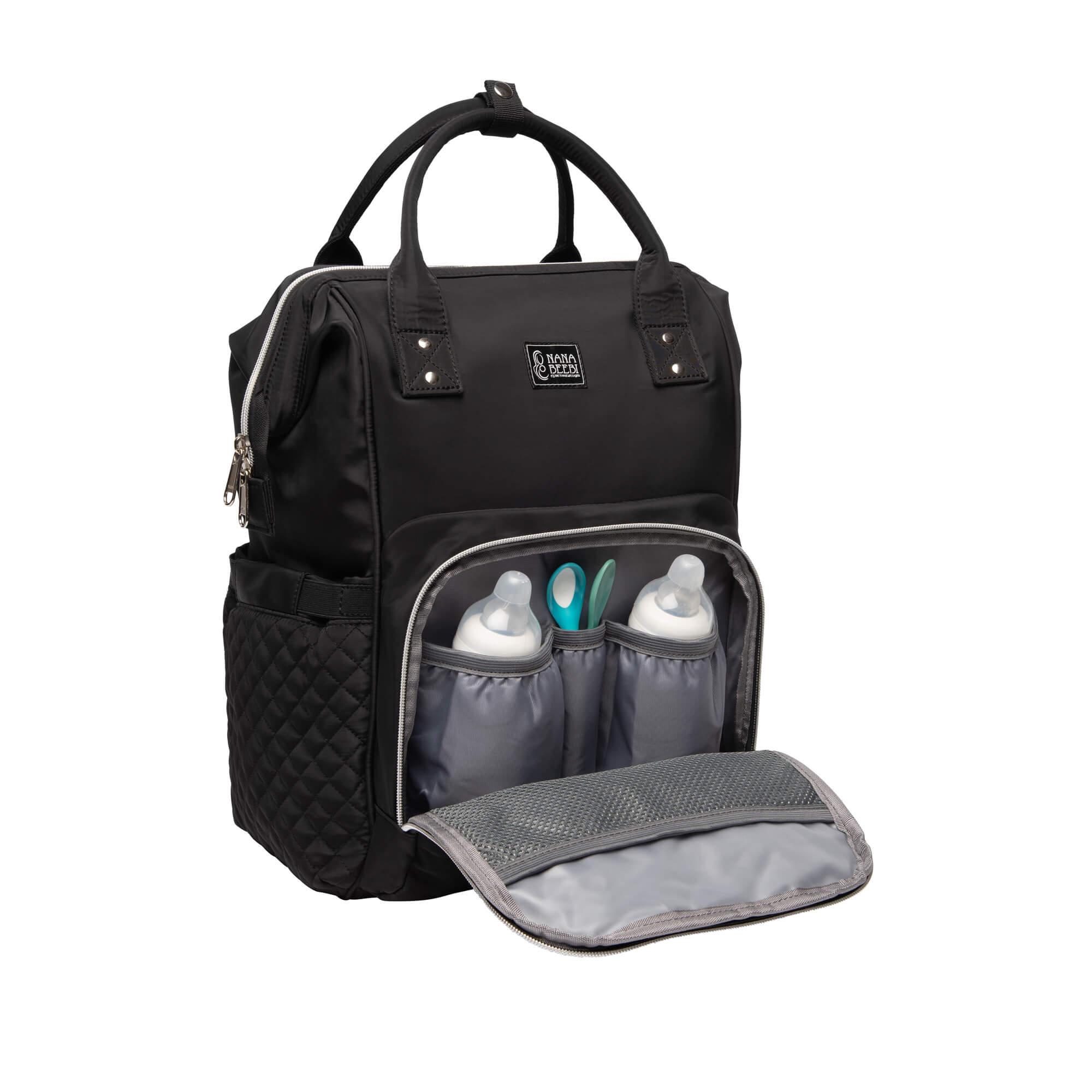 The prices of a good diaper backpack
Diaper bags are just as indispensable as diapers.It is an excellent solution for parents as it helps to carry only one bag when you have a child.
It would be best if you put the quality of the bag first rather than just focusing on the cost of the bag you buy for your travel needs.
This is because the price of these products depends on design and construction, size of the product, type and materials used.As a result, bag prices vary from brand to brand.
If you use the bag often, it is very important that you buy a good diaper bag , even if it is more expensive than the other diaper bags.
Fortunately, NanaBeebi has designed the ideal diaper bag at a fair price.A fire created by parents for parents.As parents, we have it hard enough already ;).